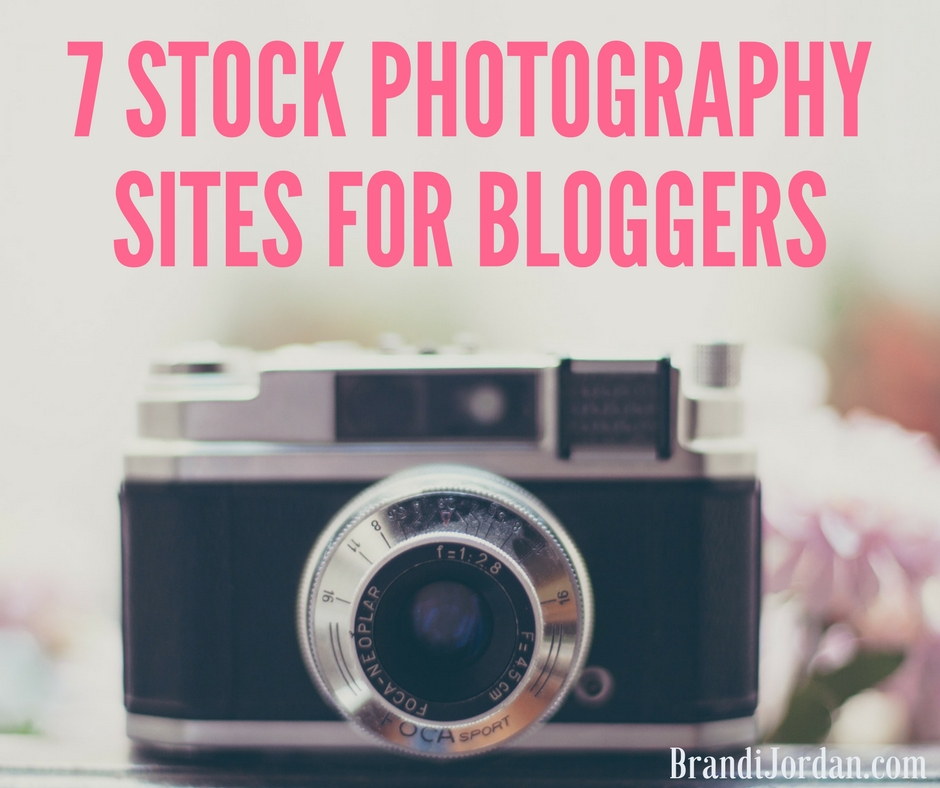 I am not a professional photographer. In fact, I only take pictures with my phone, because the little point and shoot camera I have has been missing its charging cord for about eight years now.  So, when it comes to populating my blog posts with photos, finding ones that are attractive and inexpensive is key.  I do take some of my own photos and have a collection of props, but for the most part, I outsource my images.  Questions come in all of the time asking where bloggers can find photos, so here's a list of some of the places I use to get pictures.
Free and Low-Cost Stock Photography for Bloggers
Before I get into the list, please hear me clearly when I implore you not to ever just use a photo you found on Google or Pinterest or that you found on someone else's site. That, my friend, is stealing. Plain and simple, copyright laws are being broken the moment you do that and you can get into some serious hot water. So, just don't. Ever.  Okay, let's go.
One of the go-to sites for free photos that are allowed to be used commercially, Pixabay has a wide collection of images available to download.  They're constantly adding user-submitted work, so check back often. The quality does vary, so it may take a bit of time to find an image that works well for you.
Pexels is another free image site and, much like Pixabay, has a wide range of photo qualities. Always check the rights that come with the photos to make sure they're free to use in commercial work.
I like the look of many of the photos on Unsplash, but I will caution you to examine each photo very, very, VERY carefully.  I had downloaded an innocent enough photo of a coloring book to use in a graphic only to blow it up on my larger monitor and zoom in to find it was much less innocent than it appeared. That being said, I still use the photos there quite often, but I learned my lesson about quadruple checking the appropriateness of all photos.
Graphic Stock is a subscription service and one of my favorites. In fact, it's the only yearly subscription I use. I've rarely had trouble finding what I need on the site and, with their large collection of vector graphics as well, there's multiple design opportunities.  Here's my affiliate link which will give you 83% off your yearly subscription at GraphicStock (sweeeeeet!), so that it's just $99/year for unlimited downloads.  Yes, that says unlimited downloads.  Yay!  Have I mentioned that I love GraphicStock?
Shutterstock has amazing images, but they're also not free.  Two images will cost you $29 or you can opt for 10 images a month for $29.  There are a lot of different pricing options for you depending on your needs.  It really just depends on what you're using the photos for and what type of look you're going for.
Did you know that you can download free trials of Adobe Illustrator and Photoshop? You can!  You can also buy great stock photography from Adobe Stock.  The pricing is similar to Shutterstock's with 10 images a month for $29.99.  The photos are great though and if you're upping your image game, it's a good investment.
Haute Chocolate is another site that's quite popular among bloggers, because of its styled photo offerings.  Pricing is $75 quarter, $125 every six months, or $225 yearly.  Membership fees are non-refundable and images cannot be transferred in any way to clients. So, if you're working on a graphic for a client or even a blogging friend, you cannot use the images you get from Haute Chocolate to do that.  That being said, the images are very pretty and, if you're interested in images just for your blog or business graphics, the quarterly rate might be the way to go.
Whatever site you decide to use, study the terms of use carefully. When you put an image on your site, you are responsible for making sure that you're observing copyright laws and acting responsibly.  The three must-do's of image usage: don't steal images, don't use images from Google, and always read the license.  Happy blogging!
Tell us:  What's your favorite site for stock photography?
Save
Save
Save