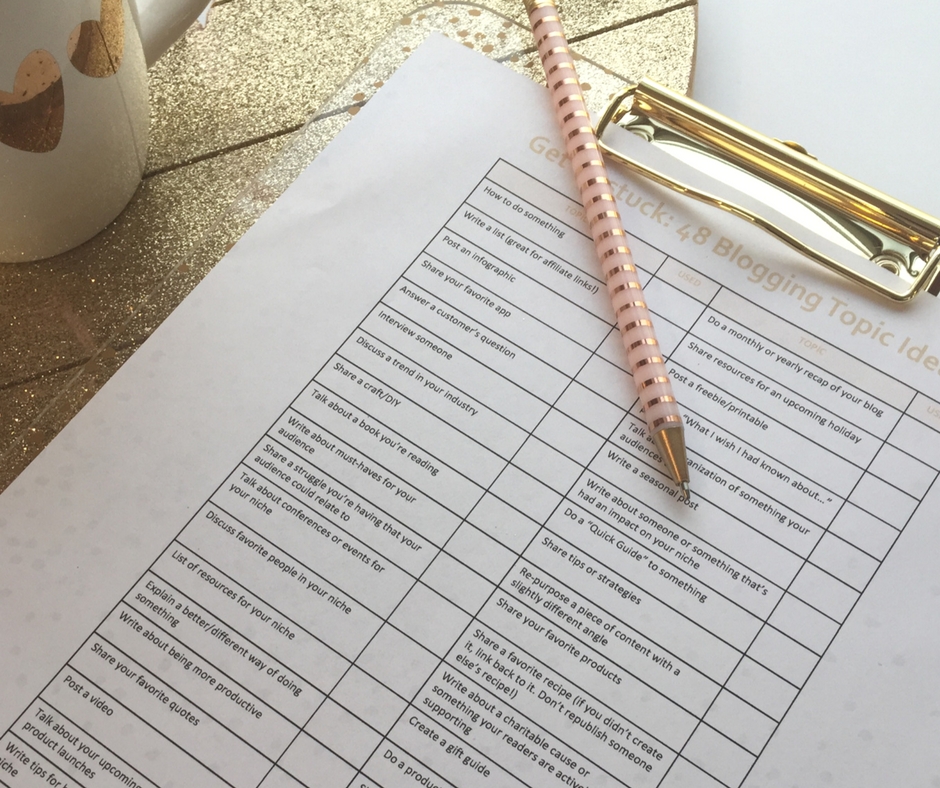 If you've found this article through search, chances are that you're knee deep in the panic stages of wondering what to write about on your site.  It's a place we've all called our temporary home at least one time in our blogging careers.  You, my friend, are not alone.  So, what's the solution for getting out of here and mustering up your writing mojo?  It's just all about getting ideas.
Getting Unstuck: Blog Topic Ideas
I've been blogging for a long time, but even with thousands of articles under my belt, I still get stuck.  So, I've started keeping track of the ideas and topics that could pull me out of that writer's funk and get the content juices flowing.  In fact, I created a cheat sheet for myself, so that I could record when I used that starter or topic.
I have many different sites that I write on and for, so I keep one for each.  If you only have one site that you write on – awesome! Just cycle through the ideas that apply to your field or audience a few times throughout the year.  If you write for multiple sites, you can either spice things up and pick new angles for each article or write the same angle with different content for all of the sites before moving on to the next. Personally, I like to spice things up so that I don't get bored, because boredom? Boredom leads to writer's block.  Not cool.
You can scroll below to read them, but then print out a free copy of the blogging topics here.  While you're checking that out, be sure to grab a copy of the free social media tracking sheet for 2017 too.  Read more here about why it's important to keep track of those social numbers.
No matter what topic or angle you decide to take, the best advice I can give you is to be authentically you.  Write in your voice.  Write like you're talking to a friend.  Because, at the end of the day, your readers should be people who you would call friends and who would be proud to call you their friend.  Life is too short to just write content for SEO keywords.  Write from your heart.  Always.
Now, go download those blogging topic ideas and start writing.  You're going to do great!
48 Blog Topic Ideas for Any Niche
How to do something
Write a list
Post an infographic
Share your favorite app
Answer a customer's question
Interview someone
Discuss a trend in your industry
Share a craft/DIY
Talk about a book you're reading
Write about must-haves for your niche
Share a struggle you're having that your audience could relate to
Talk about conferences or events for your niche
Discuss favorite people in your niche
List of resources for your niche
Explain a better/different way of doing something
Write about being more productive
Share your favorite quotes
Post a video
Talk about your upcoming projects or product launches
Write tips for being successful in your niche
Share some of your personal story
Host a giveaway
Share music related to your industry
Post a funny video
Share other websites for your niche
Explain how to earn money in your niche
Share how to save money in your industry/niche
Write about a fact in your industry
Write a beginner's guide to something in your niche
Write about what to do when you're not doing something related to your niche
Tell a funny story
Write about an industry/niche myth
Share a new tool/product with your audience
Do a product review
Create a gift guide
Write about a charitable cause or something your readers are actively suppoting
Share a favorite recipe (If you didn't create it, don't publish the recipe! Share a link back to the original site. Play fair, friends.)
Share your favorite products
Re-purpose a piece of content with a slightly different angle.
Share tips of strategies
Do a "Quick Guide" to something
Write about someone or something that's had an impact on your niche
Write a seasonal post
Talk about organization of something your audience uses
Write a "What I wish I had known about…" post
Post a freebie/printable
Share a resource for an upcoming holiday
Do a monthly/yearly recap of your blog
Click the image below to head to the download page and don't forget to save this for later by pinning it your Pinterest board!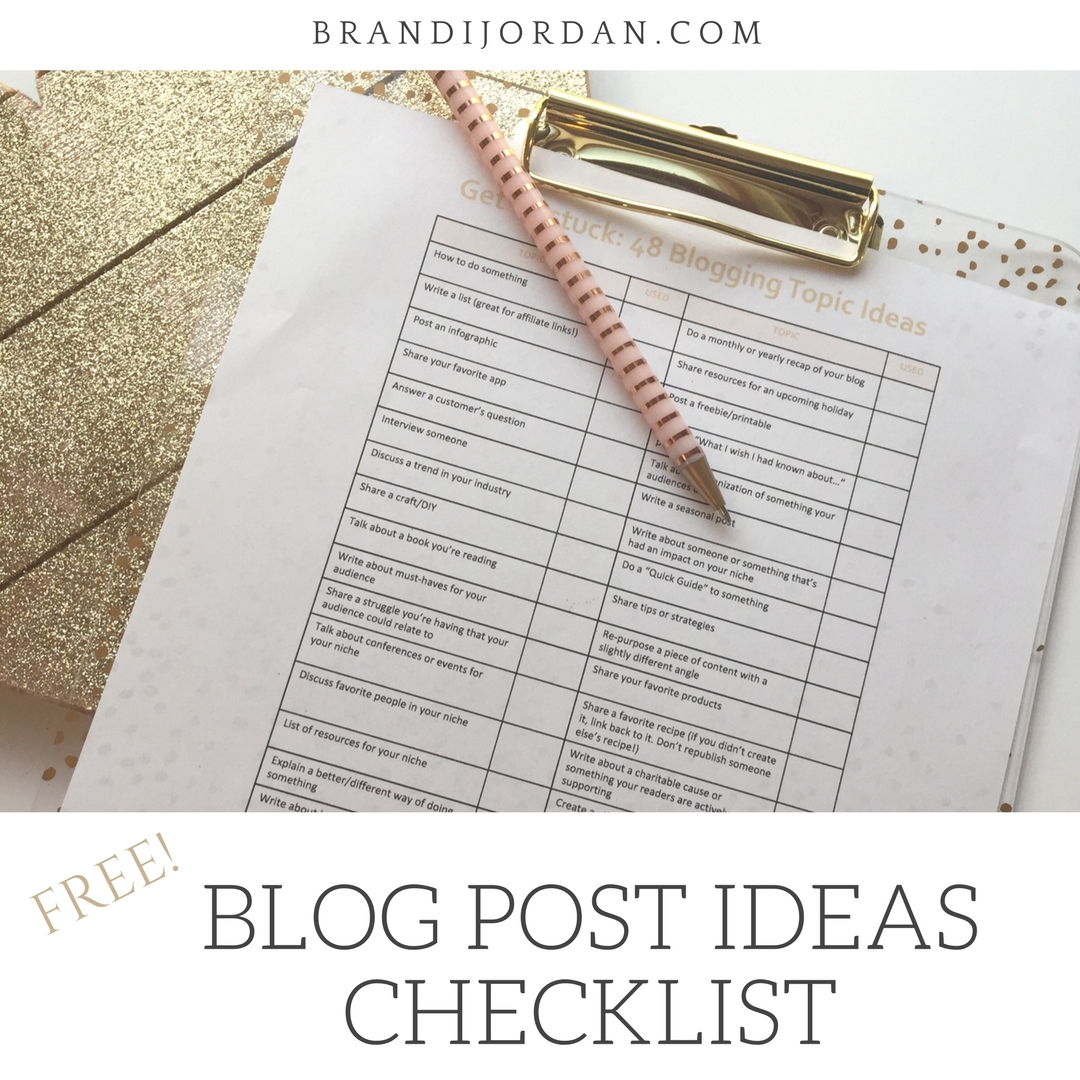 Save